Berber Adventure Tours - your once in a lifetime trip
Berber adventure tours organises adventurous hiking trips in the Moroccan Sahara from Merzouga or Zagora
"Imagine waking up to total silence, the first rays of sunlight peaking over the sand dunes next to your tent. After a simple breakfast of fresh bread, olives and tea, you will walk through landscapes that most people will never set their eyes on. Sand dunes, dried up river beds and bare mountains showing layers that are millions of years old."
Hike with us in the Moroccan Sahara
You are looking for a very special adventure? A trip most people won't dare to take?
Then come hike with us in the Sahara!
We offer private once-in-a-lifetime, multi-day hiking trips in the Moroccan desert, far away from civilization. Trek with us in a way the Berber nomads have travelled for centuries. With only the absolute necessities, supported by our trusted camels we will take you on a trip you will never forget!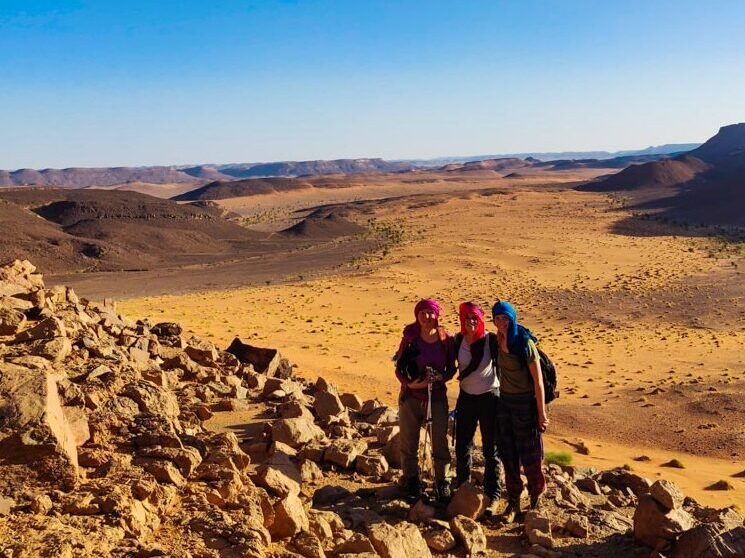 Follow the footsteps of the Moroccan Berber people on our multi-day hiking trips in the Sahara.
New group tour from Zagora
We have a new program for a 5 day hike from Zagora and in March we already have reached the minimun number. So the trip is definitely happening!
Come join us for a 5 day hiking trip in the Sahara desert. You will sleep under the stars far away from the noise and lights of the cities.
We leave from Zagora in the late afternoon of March 9th and will return on March 14th in the afternoon.
"The desert makes you humble, it quiets your mind and you start focussing on the now. The views, the smells, the sound the wind makes in the few bushes around.
After my first desert hiking trip in Morocco, I was sitting in the plane on the way home, and I was almost crying from all the memories I made. It was the best holiday I have ever had, mostly because it was so quiet and calming and I had so much time for myself. I don't think I have ever been that relaxed in all my life."
Hiking from Merzouga
Merzouga, and the desert surrounding it, is our home turf! So expect to hike away from the crowds of overnight tourists. Come on one of our multi-day desert hikes and enjoy the best views the area has to offer. And be amazed by the night sky with millions of stars.
Hiking from Zagora
Zagora is easy to reach by bus from Marrakech, making this a convenient starting point for a multi-day desert hike. Starting in the beautiful Jebel Bani mountain range, making our way towards the dunes of Erg Chigaga and the Draa river valley. This is the hike that started Eva's love for the desert in Morocco.
Long distance hiking
If you are interested in a longer desert hike, we know just the place! The stretch between Zagora and Merzouga offers breath-taking landscapes and a lot of variety. You will not get bored, no matter if you choose to trek with us for 5 or 16 days.
We have a passion for multi-day hiking and adventure and we are ready to share this love with you!
If you've never been to the desert, let me tell you, it is much more diverse than you'd think. There is everything from rocky plains and dried up river beds to the high sand dunes everyone pictures. Our multi-day desert hiking tours are designed to show you as much diversity as possible. And believe me, no one wants to walk through the sand dunes for 5 days in a row! 
As our tours need to stay flexible to adjust to weather conditions and fitness of the group, we cannot give you very detailed information until we know your preferred dates and group details.
Our desert hiking trips can start from Zagora, Merzouga or anywhere in between. The duration can be anything from 3 days to 3 weeks of hiking. We use camels to transport luggage, tents, food, water etc. You will only have to carry your day pack with your water, camera, etc. It is also possible to book a riding camel for an additional fee.
Our minimum group size is 4 people, maximum 10. If your group is bigger than this, please get in touch anyways and we will see if we can work something out. Of course you can go with 2 or 3 people also, but the price will be the same as for 4 people.
The combination of Hassan's local knowledge and connections with Eva's first hand experience hiking like this in the desert (and her being German with a natural focus on punctuality, thoroughness and follow through) makes us your perfect choice!
We have a deep love for the desert and a deep love for planning – giving you the luxury of relaxing while we make your adventure dream come true.
From providing camping equipment and all food and drinks to picking the perfect route for you, we take care of everything.
You just have to provide us with some details about your group, your planned length of stay and your travel dates and we will take care of the rest.
During the hike you will get 3 meals per day, snacks and of course 24/7 guidance and assistance.
We believe in climate change and are trying hard to reduce our impact in this. We reduce plastic, take all our waste with us from the desert and even collect trash we find along our way.
Also, we source everything we can locally and make sure your money stays here, where it's needed.
And, we use camels, not cars, to transport the luggage and food during the hike.