About Berber Adventure Tours
We created Berber Adventure Tours to show you the beautiful Moroccan desert we call our home. We specialize in desert hiking in Morocco, because this is our biggest passion.
We want you to experience the Berber hospitality, the diversity of the Sahara and of course the delicious food we Moroccans are so proud of. You will get unique insights into the Berber culture, learn how to make bread in the sand and how to find wells in the middle of nowhere.
Most likely there will be no phone reception for the majority of the trip, making this the perfect tour for anyone seeking a digital detox.
You will be surprised how fast you will be completely relaxed and how much more you will enjoy the raw nature surrounding you. You will marvel at how many animals live in the desert, how many shapes and colours rocks come in and how many stars you can see at night.
Our guides, drivers and camel men are all originally from Morocco, most from the desert around Merzouga. As Berber and former nomads, travelling is in our blood.
We have a passion for hiking and adventure and we are ready to share this love with you!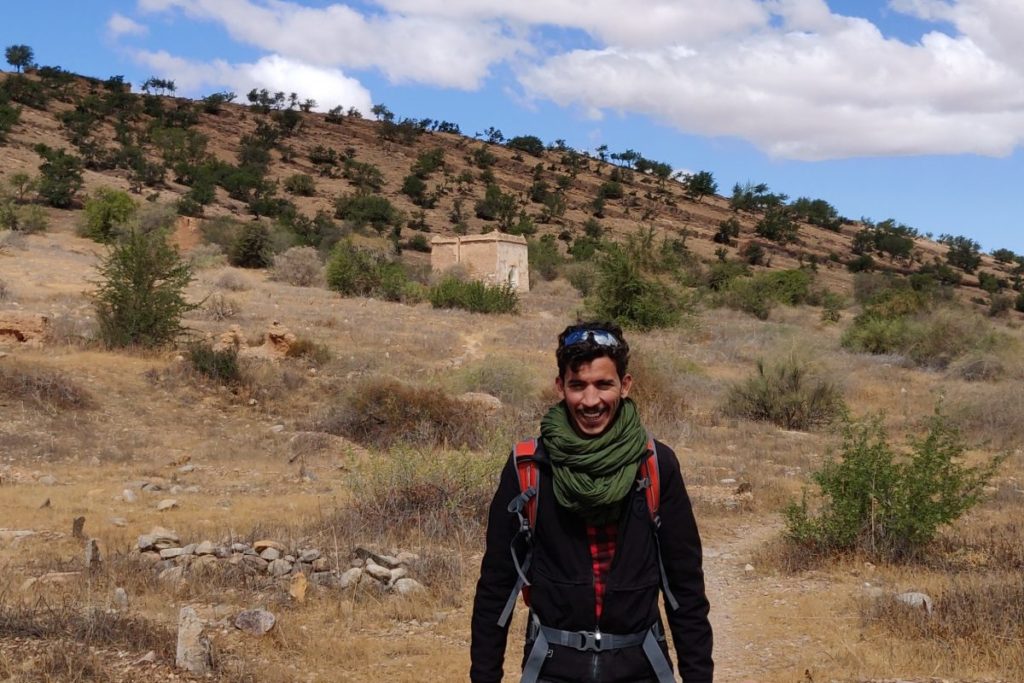 I come from a family of nomads, so travelling is in my blood. About two generations ago my family settled in Merzouga, a little town in the big Sahara desert.
As a Berber, I have nomad blood and that means, I get itchy feet every so often. It led me to working and living in different places all over Morocco, for example Tiout in the Agadir area and Tangier in the far north.
For years I have been working as a camel man, guiding tourists into the beautiful dunes of Merzouga. I picked up many languages from tourists all over the world. I am fluent in French, Spanish and English and have basic knowledge of German. Also, I learned so much about the different countries and people living there.
In the summers I used to run a restaurant in Merzouga. My love for food is pretty evident and I love to share this with the people visiting my home country.
I love to talk to the tourists I meet and I believe I learned what they are looking for when coming to Morocco.
In the more recent years I have specialized in leading longer tours and expeditions in the desert. So I am very well equipped to design the perfect adventure trip for you here in Morocco!
I met Hassan on a 16 day desert hike from Zagora to Merzouga, where he was the guide. It was just one other lady and I, for the 16 day hike, so clearly I am adventurous!
I am a Radiologist by training and used to work as a global healthcare consultant travelling the world to destinations like Iraq, India and Chile.
When I decided to quit my job and travel for a while I came back to Morocco, and haven't really left since (although I spend my summers elsewhere, it is just to hot!)
Living in Morocco gives me a perspective on life I could never have found at home. Priorities out here in the desert are different, it's not about shopping or technical gadgets but about living in the moment and enjoying life.
I've extensively travelled Morocco, my favourite places include Essaouira, Tetouan and of course the desert around Merzouga.
I am responsible for everything behind the scenes, from calculations to marketing. I also do most of the communication and will likely be the one responding to your emails and WhatsApp messages.
So what are you waiting for?