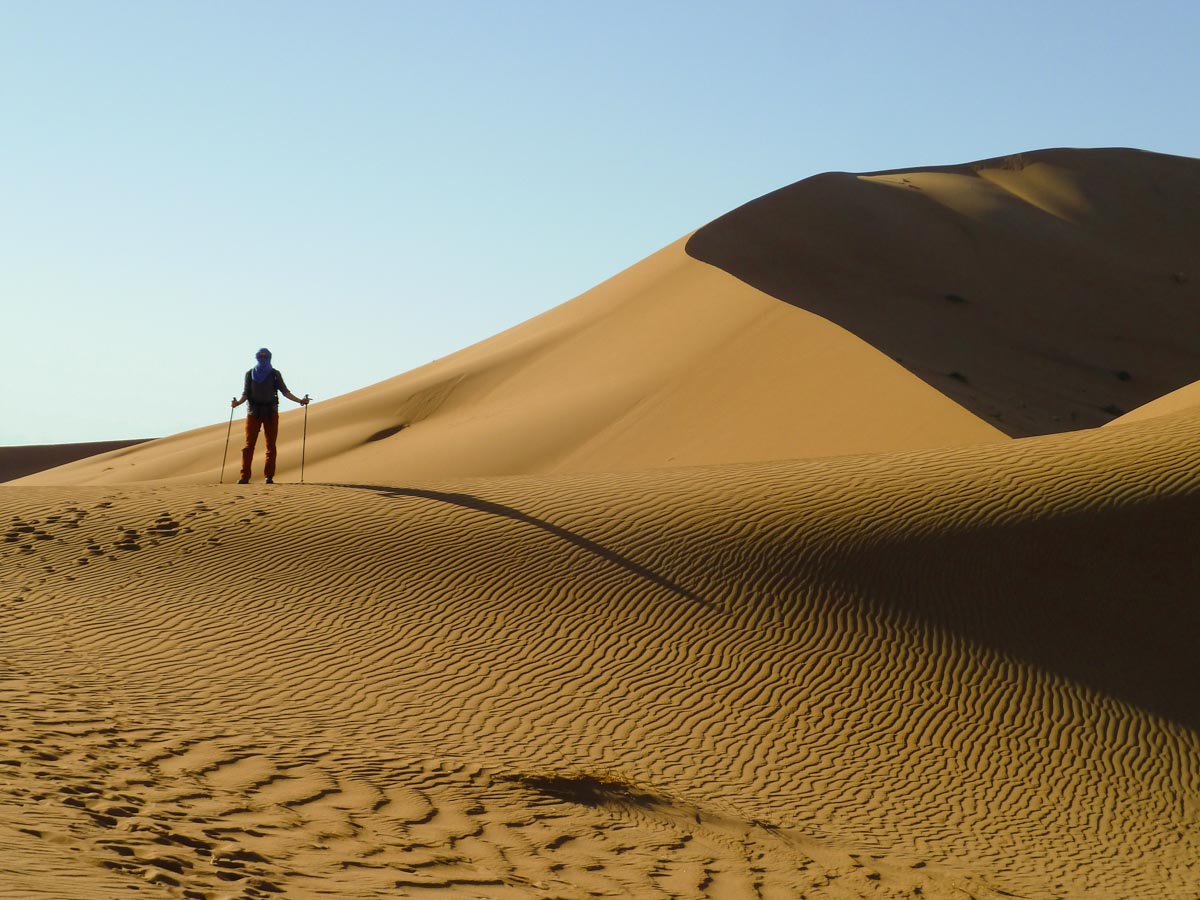 Hike with us around Zagora
Eva's very first trip to Morocco was a hike in Erg Chigaga, close to M'Hamid. It was her most enjoyable holiday ever at that time mostly because hiking in the dunes is very meditative and relaxing.
Our favourite camel man lives in Zagora and knows the area very well. So you can be sure we will take you on the path less travelled, to the best camping sites and show you the best spots for photos, sunsets and star gazing.
Our standard hike from Zagora is a recreation of Eva's first hike in Morocco and we hope you will go home with the same feeling of relaxation as she did.
We can of course customize these multi-day hiking trips to your wishes.
Generally the days look like this:
Start hiking after breakfast, enjoy lunch under a tree, hike some more in the afternoon. Free time to enjoy the sunset in the evenings, discover the surroundings of the respective campsite. Depending on weather conditions there might be a camp fire in the evenings to bake fresh bread for dinner/breakfast. You would be helping with setting up camp and also packing up in the morning. Our camels carry all equipment so you just have to carry a daypack with water and snacks.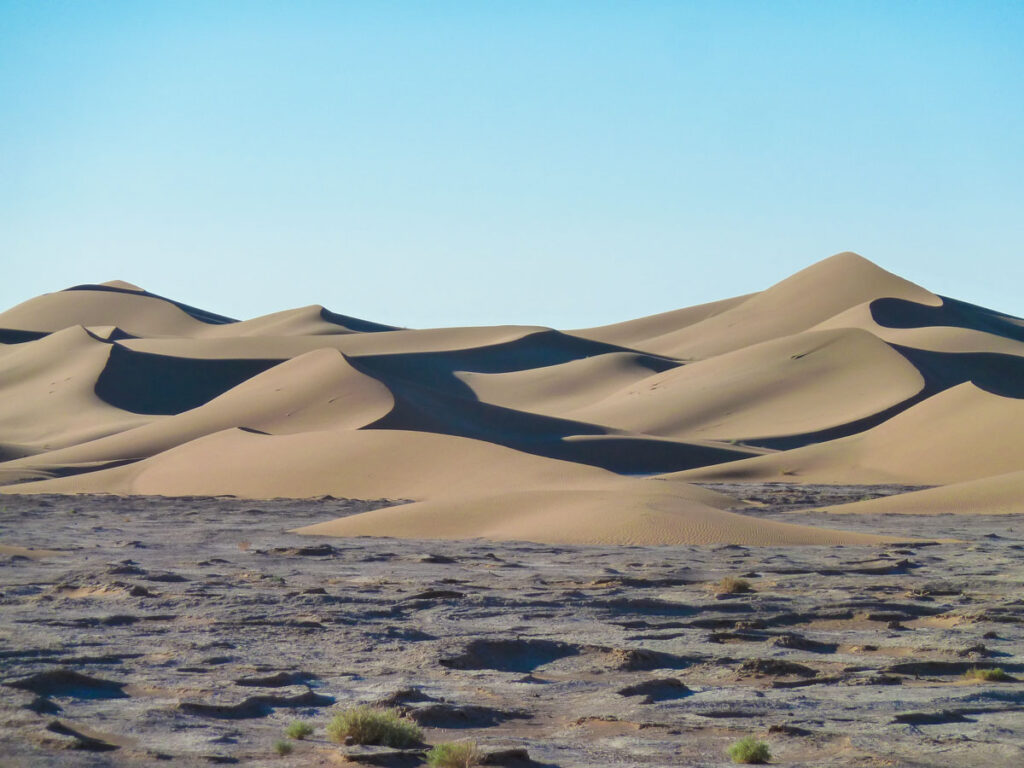 Our multi-day hikes from Zagora
Hike 1 - For desert beginners- Price starting from 650€ per person
Fitness level 2-3/5
5 days, Jebel Bani, Erg Chigaga
Total distance ca. 60-70 km over 5 days.
Day 0:
Arrival in Zagora, transfer to camp below Jebel Bani
Day 1:
Climb up the steep rocky path to the top of Jebel Bani, follow the river valley until we reach a small oasis with a well where we will set up camp
Day 2:
Follow the riverbed to the rocky flats, maybe we will meet some local nomads that camp in this area. Camp in the flats
Day 3:
Today we will cross the flats with the tall dunes of Erg Chigaga on the horizon. We will aim to have lunch between the first dunes under the Tamarist trees and head further in for our camp for the night
Day 4:
The first target for today is ascending the highest dune of Erg Chigaga to enjoy the amazing views from the top. We might be able to spot our camel caravan setting up camp in the distance
Day 5:
More hiking in the dunes, towards the piste where we will be picked up after a couple of hours
Hike 2 - For desert lovers- Price starting from 990€ per person
Fitness level 2-3/5
11 days, Jebel Bani, Erg Chigaga, Draa Valley, M'Hamid,
Total distance ca. 120-140 km over 9.5 days.
Day 1:
Arrival in Zagora, transfer to camp below Jebel Bani
Day 2:
Climb up the steep rocky path to the top of Jebel Bani, follow the river valley until we reach a small oasis with a well where we will set up camp
Day 3:
Follow the riverbed to the rocky flats, maybe we will meet some local nomads that camp in this area. Camp in the flats
Day 4:
Today we will cross the flats with the tall dunes of Erg Chigaga on the horizon. We will aim to have lunch between the first dunes under the Tamarist trees and head further in for our camp for the night
Day 5:
The first target for today is ascending the highest dune of Erg Chigaga to enjoy the amazing views from the top. We might be able to spot our camel caravan setting up camp in the distance
Day 6:
More hiking in the dunes, heading south-east. The dunes will get smaller and smaller and we will cross some flats along the way. We will camp between the dunes
Day 7:
As we are nearing the Draa River Valley, the dunes get smaller and the flats bigger. We will camp close to a small village where a few nomads settled
Day 8:
We will cross the Draa Valley which in this part is very wide but rarely has any water. We will camp on the far bank in the dunes
Day 9:
Another day with small dunes and flats taking turns. In the flats watch out for meteorites between the colourful rocks. Camp will be set up in the dunes
Day 10:
If we are lucky, todays path will lead us across a big rock with tons of fossils from the days when the Sahara was the ocean floor. Camp will be set up under palm trees in an oasis close to M'Hamid. Our last night with the crew calls for a nice camp fire, singing and dancing
Day 11:
A short walk towards M'Hamid, where transport will wait to bring you to Zagora