Testimonials - What our customers say
Sina, Long-distance Hike 1
"I was part of the desert hiking trip in October 2019 together with a friend and had an unforgettable time. The well-rehearsed team was friendly, cordial, open, took good care of us and made all our wishes come true. The food was top level.
All in all, the atmosphere was very familial and I learned a lot about the nomad life, mostly because the guides were super authentic. The desert is just fantastic and much more divers than I had imagined. All in all, I can only recommend this tour – also as a detox from everyday life and being available at all times!"
Gesa, Long-distance Hike 1
"What can I say? Walking through the desert, experiencing the pure beauty of the Sahara and being part of a real caravan with warm-hearted and lovely crew members made this trip simply  unforgettable. The crew members made it possible to let me dive into their culture and it still fills me up with great thankfulness."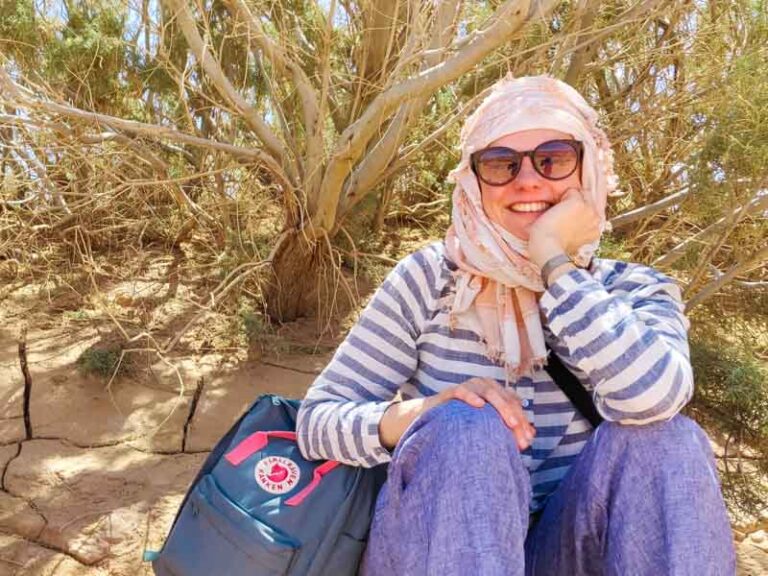 Dina, Customized hiking itinerary
"After this trip, I will always take the Sahara desert with me, everywhere I go. From planning to booking to actually being in Morocco, everything went super smooth. The hospitality and generosity of the people were absolutely stunning, the food was so delicious, and the trek left nothing to be desired. I could socialize when I felt like socializing, and fall back deep into myself when I felt like retreating from the outside world. The breathtakingly beautiful, vast, wide land around me felt like it wasn't empty at all. It felt like the desert is a space of infinite potential, as if all the possibilities I am looking for are contained there and are mine for the taking. Thank you, Eva and Hassan, for this amazing adventure, and for the lasting memories you so beautifully helped to create."
Bob, Customized one week trip
Morocco offers a fantastic culture to immerse yourself in. The people, food, and architecture lay the foundation for what will be one of the most uniquely memorable experiences of your life. That's baseline. However, when you book with Berber Adventure Tours your experience is exponentially enhanced. That's owed to Eva and Hassan. Hiking with Hassan and learning about the Berber culture, his time exploring the Sahara as a child before the major tourism industry boom, and allowing us to ride his family camels were a highlight of my experience. Thanks to Eva and Hassan, our trip will be cherished for a lifetime.
Kat, Customized 3 day stay
Eva and Hassan led me on a hike through the dunes of Erg Chebbi to a desert camp outside Merzouga where we ate a delicious tajine meal and fruit. It was an experience I never would have had on my own and throughout which I felt I was in very capable hands, both in terms of the hiking we did and how reassuring and knowledgeable they are!
We also explored the small town of Merzouga and neighboring towns and cooked a huge meal of chicken and vegetable couscous with Eva's friends in the area (everyone I met in their orbit was awesome).
My days in Merzouga felt like the perfect result of rigorous planning and casual comfort. And the cost was very reasonable. I definitely recommend Berber Adventure Tours