Long-Distance Hiking in the Sahara
This is my personal favourite way of exploring the desert. With just a rough route in mind, no fixed camping spots, just hiking as long as you want, the weather permits or the landscape suggests. Sometimes you want to call it a day after only 8 km to spend the afternoon and the night in an amazing camping spot. Sometimes you feel super fit and the terrain is easy so you hike 18-22 km a day easily.
The distance from Zagora to Merzouga along the hiking route is roughly 250 km, and I took 16 days to hike the full length. We had short and long days, and it was more relaxing than demanding in total.
There are a few points along the way that are reachable via 4×4 and can be used as alternative start or end points, if you prefer to only hike a part of the way.
The most spectacular part is the 5 day hike/ 7 day trip outlined in Hike 1. But according to your timeframe and preferences, we can customize the hike from 5 to 16 days just as you like.
Generally the days on our multi-day hikes look like this:
Start hiking after breakfast, enjoy lunch under a tree, hike some more in the afternoon. Free time to enjoy the sunset in the evenings, discover the surroundings of the respective campsite. Depending on weather conditions there might be a camp fire in the evenings to bake fresh bread for dinner/breakfast. You would be helping with setting up camp and also packing up in the morning.
Hike 1 - spectacular landscapes - Price starting from 1100€ per person
7 days total, 4.5 days hiking, Marrakech, Ait Ben Haddou, Sidi Ali, Ramlia, Ouzina, Merzouga

Total distance ca. 60 km over 4.5 days
Fitness level 2/5
Day 0:
Arrival in Marrakech
Day 1:
Pick up in Marrakech early, drive through the Atlas mountains, short visit in Ait Ben Haddou, lunch, drop of at Auberge around sunset
Day 2-6:
(Depending on weather and fitness, camp might be in different spots):
The trek begins with a nice flat walk towards a mountain range that we will need to cross (around 400 m height difference, but nothing too steep). The side of the mountain has some dunes before turning into rocky slopes.
Once we reach the pass, we will have some spectacular views of the valley beyond. We have to find a safe way down into the valley for the camels and start our descend. We follow the valley for a day and likely run into local nomads with their goat herds. We stop regularly at some wells to stock up on water, wash our hair and if you want your laundry. All along the way we can find beautiful rocks and flowers, see lizards and tracks of desert foxes.
We cross a big Ouad (a most likely dry river bed) and head into the tiny town of Ramlia, depending on the time of day for coffee, lunch or a snack. If we are lucky the little bakery is open and we can stock up on some delicious cookies.
We walk along a mountain range which will give us shelter from the wind if necessary. We cross some more small mountains, cross small dune fields and dry river beds, have a break at a small oasis and end the trip in my favourite dunes of Morocco (as they are pretty untouched by tourism). Here we will be picked up and driven to Merzouga where we will spend the night.
Day 7:
Return to Marrakech via Minibus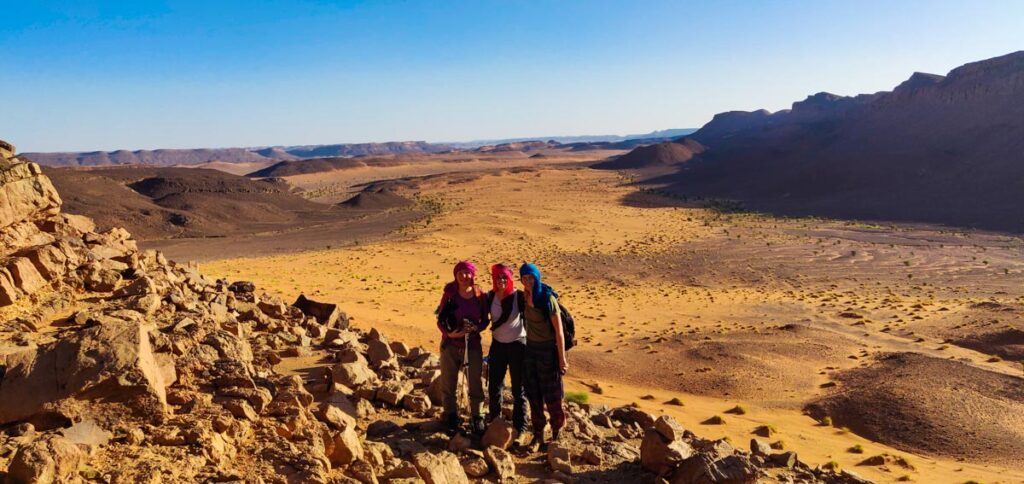 Hike 2 - The Ultimate Sahara Adventure- Price starting from 2000 € per person
14-16 days, from Zagora to Merzouga

Total distance ca. 250 km

Fitness level 3/5

Not included: transfer to Zagora/from Merzouga
For this one it is hard to give an itinerary, as the distances hiked each day will depend on the group and weather conditions.
But, the nicest part of this hike is detailed in Hike 1 above, and those would roughly be Day 7-11 of a 16 day hike.
From the end point of Hike 1 we would follow the Ouad Ziz to Taouz and from there continue to Merzouga via Hassi Begaa.